Filter by Category
Online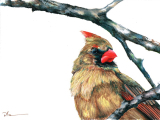 Getting Started with Colored Pencil - Online Course
with Phillip Schorn

Sep 13, 2022 at 6:30 pm

, runs for 6 weeks
Explore the beauty of drawing with colored pencils in this online course for beginners!
The Beginner Class is designed for those with little to no experience with the color pencil. You will learn techniques for using the color pencil, layering, blending and paper types. During the class, you will do 3 renderings. Each class is recorded and sent back to you. Reference images are supplied. (For age 14+)
More about Phil:
Phil been an color pencil artist since 2012. The art I do is not just a hobby, but a passion of mine. My art has been published in Art Magazines, Books, Newspapers and on Television. My art has been purchased by collectors around the country. Along with the commissions I do, I also have developed color pencil drawing kits. I participate in several art fairs each summer, along with presenting drawing demonstrations for business and art groups. I have taught color pencil since 2017 with in-person, private and online classes. I estimate I have done well over 150 online classes with well over 600 individual zoom sessions. to see my art go to:
Over the six weeks you will work on 3 renderings.
This live Zoom course meets for 1.5 hours on September 13th, 20th, 27th, & October 4th, 11th, and 18th 6:30 - 8:00pm. A recording of each session will be available for you to view if you are unable to attend a live session. Reference images will be supplied. 
It is expected that the student will be able to dedicate time between the sessions.  
What you will need:
Set of Prismacolor 48 Softcore color pencils. (or larger set)
One (1) 9' x 12 ' Strathmore Smooth Bristol drawing paper (comes in a pad of 20 sheets)
Paint brush (used as a drafting brush)
Colorless Blender Pen (a marker with no color)
Pencil sharpener (manual or electric)
Helpful extras….. Smooth surface to draw on, drawing board 1" or 2" clean, soft paintbrush (for use as a drafting brush)
Supplies can be ordered online through Dick Blick or other online outlets. For convenience, see cost and order here: https://www.dickblick.com/lists/blicku/J828F4LHSVHTJ/publicview/
Links to access instructional videos and instructions to schedule Zoom sessions are sent through email prior to the course start date. Questions? email us at artschool@waterstreetstudios.com
#DRW102.122.02