Filter by Category
Kids / Young Artists / Teen
Watercolor for Beginners (Ages 11-16) South Classroom
with Annelise Bronsveld

May 21, 2022 at 9:30 am

, runs for 5 weeks
Join Annelise for this wonderful class for young artists!
In this course for young artists, you will be introduced to the fundamentals of watercolor! (For ages 12 - 16) Using still-life as the subject matter, you will gain a basic understanding of watercolor by practicing brush techniques, layering and washes. By the end of the course, you will have created a few finished pieces that will prepare you for continued exploration in watercolor. No previous experience required.
 Please bring the following supplies to class:
Cretacolor Aqua Brique Set

Strathmore 300 Series Tape Bound Watercolor Pad - 9'' x 12'', Cold Press,

Tape bound (12 sheets)Strathmore 400 Series Watercolor Paper - 22'' x 30'', Single Sheet
WSS will provide brushes, drawing boards, water cups, palettes and tape for stretching paper are provided by Water Street Studios.
 Course# PNT106.222.01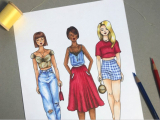 Fashion Design and Illustration for Teens (Ages 13 - 18)(North Classroom)
with Juliana Gabriel

Jun 2, 2022 at 3 pm

, runs for 5 weeks
Students will learn how to draw their own fashion illustrations and design their very own collection! Juliana will give step-by-step instructions on how to draw a proportional basic fashion figure. She will then help her students develop their own figures - whose unique style, body types, and poses fit their own design aesthetics.They will then learn how to render different fabrics and silhouettes, drawing from other designers' work and their own creations.
Week 1: Draw a croquis/basic fashion body
Week 2: Developing unique figures; including faces, hair, proportions, and poses
Week 3: Rendering different prints and textiles
Week 4: How fabric lays on the body, drawing a real runway design
Week 5: Designing your own outfits          
 What students will need to bring to first class:
Eraser
2B Pencil
Artist marker set (ex: copic, blick studio, prisma color)
Multimedia sketchbook 11' X14' or larger
05 Micron Pen 
  #YTH.137.322.02