Filter by Category
Glass
Making Glass Swizzle Sticks
with Victoria Belz

Jun 27, 2021 at 2 pm
Adorn drinks with your very own handmade set of sparkling swizzle sticks. This "no experience necessary" workshop makes for a fun, creative experience or an easy introduction to the art of glass flameworking. Learn to make simple shapes and designs out of molten glass using a torch and then attach those designs to pre-made glass swizzle stick bases. Course# GLS101.321.01
Note: For ages 16 and above. All tools and materials provided. Your set of 6 swizzle sticks will be available within 48 hours for pick up. Please wear closed toe shoes, natural fiber clothing (no shorts), and secure long hair away from face.
Full Course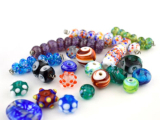 A Taste of Glass Bead Making
with Victoria Belz

Jul 18, 2021 at 2 pm

, runs for 1 week
Curious about glass beads? In this sampler workshop, you'll explore the ancient, yet simple Venetian technique of melting and layering Italian soft glass in a 2000° flame to create your own one-of-a-kind glass beads. Course# GLS100.321.02
Note: For ages 16 and above. Fee includes all tools, glass, use of a torch, and safety materials. 
For safety, this workshop is limited to three (3) participants and masks are required.
Will run
Beginning Borosilicate Glass Marble Workshop
with Victoria Belz

Jul 21, 2021 at 6 pm
Learn the flameworking technique of marble making using borosilicate glass rods. You'll learn how to gather glass and shape it in a marble mold - creating a beautiful shiny orb. With the help of your instructor, you'll practice making a single-color transparent marble and a frit/stringer decorated marble. Course# GLS104.321.01
Note: Marbles will be available for pick up approx. 48 hours after they are annealed in the kiln. The fee includes all supplies. For safety, enrollment is limited and masks are required.