Filter by Category
Scratchboard Drawing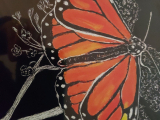 Intro to Drawing on Scratchboard for Ages 16+(North Classroom)
with Jill Adzia

Jun 4, 2022 at 10 am

, runs for 4 weeks
Students will be introduced to the dramatic and beautiful art of Scratchboard in this introduction to scratchboard class with WSS teacher Jill Adzia! Jill is a scratchboard expert who loves to introduce beginners to this beautiful and unique art! 
What is scratchboard art? Have you ever scratched your name into a surface? If so, you are well on your way to understanding the beautiful art of scratchboard! Working on a dark background which creates beautiful dramatic art, beginner students will learn this art of 'engraving', this is a drawing process where an image is incised, cut or carved into a surface with lines, marks, and strokes.
Students will learn the materials and methods used when drawing (engraving) into and 'inked' clay board or 'prepared scratchboard.'  Each student will then create a beautiful and one-of-a-kind art piece using tools that enforce the black and white design! Optional permanent markers or colored ink can be added for dramatic effect.
The possibilities are so versatile and fun! 
For ages 16+ through Adults (Some art class experience helpful but not required.)
Beginners scratchboard kit included in class registration fee.(valued at approximately $30.00) Scratchboard kit includes: Scratchboard pad, Xacto knife, Sketchbook, Masking Tape, Transfer Paper, Pencils and Erasers, Tote bag to carry these art materials.
DRW.117.322.01