Filter by Category
Painting
Oil Painting – The Beauty of Flowers
with Derin Isikman

Aug 5, 2021 at 6:30 pm

, runs for 4 weeks
How can you capture the ephemeral beauty of flowers using a brush, canvas, and paint? Explore your creativity and develop your artistic skills in this new four-week course with artist Derin Isikman.
Begin by using photos to draw various flower shapes. Then, discover the use of complementary colors, the effect of natural and artificial light on images, and how to add depth and volume to your subject by using different layers of colors. You'll leave with a finished painting to keep.
Designed for ages 16 and above. Some drawing experience is helpful, but not required. Course#PNT111.321.01
What your will need for the course:
Oil paint - Primary colors - red, yellow, blue. Titanium white.
Four stretched canvases or canvas boards (12"x10" or 11" x14")
Three brushes (small, medium and large).
Pad of palette paper
Odorless Turpenoid - An odorless, thin, colorless, turpentine substitute
Will run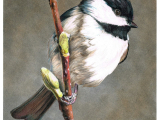 Pan Pastel and Colored Pencil Workshop
with Phillip Schorn

Aug 13, 2021 at 9 am
This special half-day workshop with artist Phillip Schorn is an excellent opportunity to expand your skill with colored pencil and to experiment with integrating pan pastels into your work. Pan pastels are pastel colors that can be mixed and applied like paint. They are packaged in a unique pan "cake" format and combine beautifully with colored pencil.
During the initial part of the workshop, Phillip will demonstrate various color pencil techniques. Then, you'll progress to working with pan pastels and colored pencil in combination. You'll work on a couple of different renderings during the workshop.
This workshop is designed for those with some experience with colored pencil, age 16 and above. A supply list is sent with your registration confirmation. Course# DRW112.321.01