Filter by Category
*Evenings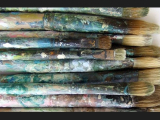 Paint & Pint: Abstract Expressionist Experience (21+ at Art History Brewing, Geneva)
with Kristin Schimmel

Aug 16, 2022 at 6 pm

, runs for 1 week
Join this special one night only workshop! This workshop is for everyone, students will explore action oriented active painting pouring and drizzling paint and more to create one of a kind works of art!
Experience and explore the energy of the abstract expressionist art movement for yourself! Class will be held at Art History Brewing, Geneva, IL.
The Abstract Expressionists were a group of young New York artists who made paintings that were non-representational, meaning they didn't look like anything. Instead they tried to show emotions, like happiness or anger, in the expressive marks that they made in their drawings, paintings and sculptures.
Bring your friends and have some fun at this summer event! Make a one of a kind abstract painting to take home! Please wear clothes that can get dirty. Come prepared to have some fun! 
*A $12.00 gift certificate is included in this class registration which can be used on the day of class for a exclusive beer tasting featuring locally brewed Art History Beer or for the purchase of any goods at Art History Brewing! (sales tax not included)
Class will be held at Art History Brewing located at 649 W State St, Geneva, IL 60134. (630) 345-6274
https://arthistorybrewing.com/
All art materials provided in registration fee. (Canvas Board, Acrylic Paints, and Brushes, other painting tools.)
  #AHB.101.322.01
Will run
Scissor & Sip - Tissue Paper Collage Workshop for 16+ (South Classroom)
with Carly Palmer

Aug 26, 2022 at 6:30 pm

, runs for 1 week
Join Water Street Studios School of Art Instructor Carly Palmer for a unique collage workshop!

*This is the perfect group outing, bring your friends and family!
Instructor Carly Palmer will present a short overview on the work of American modernist painter Georgia O'Keeffe, who is most well-known for her famous large flower paintings. Students will then use O' Keeffe as inspiration to generate their own tissue paper collage. What's unique about this particular medium is that it is incredibly sensory and tactile in nature. One can rip, tear, cringle, roll, twist, etc to encourage the tissue paper to "shape shift" before your eyes. The 3D effect also really highlights texture and invites one to experiment with a "hands on" approach!
Carly's collage workshop are designed with the invitation to engage with one's creativity through self-expression, play, and be exploratory by nature. Students will be guided and invited in creating their own tissue paper collages in a supportive and encouraging atmosphere. All materials will also be provided.
No experience is necessary. Just bring an open mind to play any & all with possibilities!
One drink Included in price. Alcoholic or nonalcoholic drinks available. Please arrive a little early, as we will begin the workshop promptly at the start time. This is a one-night workshop.
To learn more about Carly, follow her on Instagram @artfullycurious or visit www.carlypalmer.com
  #COL.106.322.01